Conference By Candlelight
M
4 – 6 September |
Stockholm, Sweden
The ABTT is one of the 2 UK centres of OISTAT. As such, anyone who is a member of the ABTT can also participate in OISTAT, activities, exhibitions, and seminars.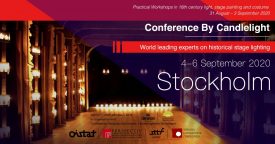 An opportunity to consider the qualities, uses and experiences of candlelit performance and its relevance to 21st century theatre. How can we reliably recreate 18th century stage lighting in a time of rapid development of new environmentally friendly and sustainable  technology?
We invite international researchers, lighting technology developers, stage directors, theatre designers and technicians with a passion for historical theatre to come to Stockholm to share knowledge, ideas and experience.
Conference venues in and around Stockholm will include Drottningholms Slottsteater of 1766 where the completely original structure includies the lighting installation, and the Confidencen Ulriksdals Slottsteater of 1753 where reconstructed 18th century stage machinery was installed a few years ago.  Because Confidencen's stage machinery has been re-created in modern times, recent productions there have been performed entirely in candlelight, which is world-unique. Most conference sessions will be held in the special atmosphere at Confidencen.
Our conclusions are intended to be of interest to all European historical theatres. Many theatres are changing their lighting equipment to meet new standards and need advice. These changes mean theatres must comply with new EU rules on more environmentally sustainable lighting. This conference will create opportunities for participants to see how 18th century theatre and performance looked and to consider their relevance and application to present day spaces and performances.
The conference programme will include:
– A history of stage lighting through the ages. A chronological journey!
– What did we learn from the Drottningholm lighting project of 1999? Decisions in aesthetics and technology.
– What do we learn from Confidencen today. What unexpected challenges did CEO Fredrik Forslund find in using candlelight?
– What will tomorrow bring? Has the experience of Confidencen changed the way we see re-created historic lighting? The new lighting technologies stimulated by environmental sustainability regulations also bring new challenges: how do they connect with flickering candlelight, light colour and life span?
The conference will be in English.