Electrical Fundamentals (One-day CPD Course – Glasgow)
Member's price £140.00+VAT
Non-member's price £230.00+VAT
30 January | 10:00 am - 5:00pm
Glasgow, The Royal Conservatoire of Scotland
Please note that in completing the on-line application you are confirming that you wish to attend this course.
Should you wish to simply enquire about the course please contact the office or Tel: 020 7242 9200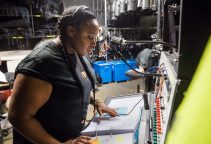 What does the course cover?
The course teaches basic electrical fundamentals and includes accompanying documentation to cover basic electricity, atoms, electron flow, conductors, insulators, switching, metering, resistance, power, electrical supply, generation, AC / DC, frequency, three phase and introduction to BS7671 Requirements for electrical installations.
Availability:
This course forms part of the ABTT Bronze Award Courses, this may be taken as a part of a larger course or can be sat as a one day module either within a scheduled course, as as in-venue training. If you are an Affiliated Organisations or ISG Members and want to enquire about hosting this course please contact us on: training@abtt.org.uk
The deputy stage manager issues cues at the prompt desk in the wings of a theatre during a performance.
The Bronze Award surpassed expectation, with more practical work than I had expected. The lecturers were all passionate about what they taught us and that helped me engage. I feel more proficient in all the fields the modules covered and the documents we received are more than enough to digest and help me develop even further.

ABTT Bronze Candidate, 2018