Manual Handling and Intro to Health and Safety (One-day CPD Course – Warwick) – (POSTPONED)
Member's price £140.00+VAT
Non-member's price £230.00+VAT
27 July | 10:00 am - 5:00pm
Coventry, Warwick Arts Centre
Please note that in completing the on-line application you are confirming that you wish to attend this course.
Should you wish to simply enquire about the course please contact the office or Tel: 020 7242 9200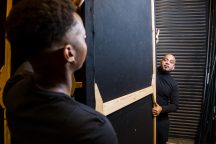 This course forms part of the ABTT Bronze Award but may be taken as a one off' stand alone course. The course can be undertaken in any clean space and allows trained candidates to teach simple manual handling techniques to on-going casual staff.
What does the course cover?
It has been estimated that more than one-third of all workplace accidents are caused by manual handling activities. The risks of manual handling include musculoskeletal injuries and injuries caused by the handler falling. The Manual Handling Operations Regulations 1992 impose a duty on employers to avoid the risk of injury to employees through instruction and induction.
This course directly relates to theatres, stage technicians and workshop staff and discusses the TMA / BECTU guidance on the Code of Conduct for Fit-ups and Get-Outs. This is City and Guilds accredited course. Participating candidates will receive an ABTT CPD certificate.
Availability:
This course forms part of the ABTT Bronze Award Course, this may be taken as a part of a larger course or can be sat as a one day module either within a scheduled course, as as in-venue training. If you are an Affiliated Organisations or ISG Members and want to enquire about hosting this course please contact us on: training@abtt.org.uk
The Bronze Award modules surpassed expectation, with more practical work than I had expected. The lecturers were all passionate about what they taught us and that helped me engage. I feel more proficient in all the fields the modules covered and the documents we received are more than enough to digest and help me develop even further.

ABTT Bronze Candidate, 2018
Location
Warwick Arts Centre
University of Warwick

Coventry CV4 7AL
Coventry CV4 7AL
View larger map