Safe use of Temporary Access Equipment (One-day CPD Course- Glasgow)
Member's price £140.00+VAT
Non-member's price £230.00+VAT
31 January | 10:00 am - 5:00pm
Glasgow, The Royal Conservatoire of Scotland
Please note that in completing the on-line application you are confirming that you wish to attend this course.
Should you wish to simply enquire about the course please contact the office or Tel: 020 7242 9200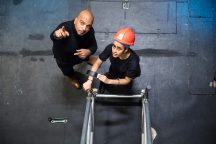 Falls from height are the biggest single cause of fatalities and major injuries at work. This course is designed to enable theatre staff to use the kind of scaffold, towers and ladders used in theatres.
What does the course cover?
It includes safe use, this course deals with the safe use of temporary access equipment such as step ladders (including Zarges), ladders, trestles, Tallescopes and mobile scaffolding. The course covers selecting appropriate equipment, planning and managing work at height, inspection and record keeping, manoeuvring, assembly and use of access equipment. The course has a major practical bias and includes moving occupied Tallescopes in accordance with the ABTT Code of Practice for the selection and use of temporary access equipment for working at height in theatre. Participating candidates will receive an ABTT CPD certificate and the current ABTT Code of Practice.
Availability:
This course forms part of the ABTT Bronze Award but may be taken as a one off' stand alone course. This course may be taken at your own venue using your own access equipment. If you are an Affiliated Organisations or ISG Members and want to enquire about hosting this course please contact us on: training@abtt.org.uk
Two theatre technicians stand at the base of a scaffold tower and discuss rigging.
The Bronze Award surpassed expectation, with more practical work than I had expected. The lecturers were all passionate about what they taught us and that helped me engage. I feel more proficient in all the fields the modules covered and the documents we received are more than enough to digest and help me develop even further.

ABTT Bronze Candidate, 2018