School Theatre Support Group: Annual Conference 2022
Member's price £95.00
28 May | 9:30 am
Cambridge, The Leys School
An online booking form can be found via the Member Portal . If you are not a member of STSG, please join or contact us.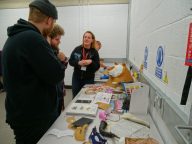 Our annual conference usually takes place every February at a member school. However, this year will be held at The Leys School in Cambridge on Saturday 28th May.
The day will follow the usual conference arrangements and is open to all STSG members and colleagues. The dinner and accommodation will be at a local hotel, included in the conference package. Accommodation for the Friday night is also available, along with the usual "day and dinner" and "day only" rates for the Saturday, and partners are welcome at the hotel.
Provided there is sufficient interest, there will also be an informal discussion meeting on Sunday 29th May in the morning, at the hotel. This will be an opportunity to discuss and contribute to the future of STSG and to continue any topics from the Saturday open forum, including queries about the Performance Support Award.
We aim to provide the conference at maximum value-for-money to allow as many members to attend as possible. This is only possible with the generous ongoing support of our industry sponsors.
This year, the conference package includes all workshops, lunch, dinner, bed and breakfast.
Please check our web site for as workshop details that will be announced as they are confirmed.