2022: ABTT Theatre Show Annual Awards
28 June 2022
The Association of British Theatre Technicians' Annual Awards took place on Wednesday evening (22 June), after the first day of the 2022 ABTT Theatre Show at Alexandra Palace, London. The ABTT Awards are one of the ABTT's flagship events; acknowledging those people and products making a difference to the Industry. Hosting these Awards in person once more, after a 2 year break - the Association was delighted to be able to once more celebrate achievement in its industry.
The five highly sort after Awards for Lighting Product, Sound Product, Engineering Product, 'Widget' and Stand of the Year, were complemented by the announcement of the recipients of the ABTT Technician of the Year 2022 and the ABTT Award for Emerging Excellence 2022 as well  as the recipient of the ABTT Virtual Ideas Platform Idea of the Year for 2022.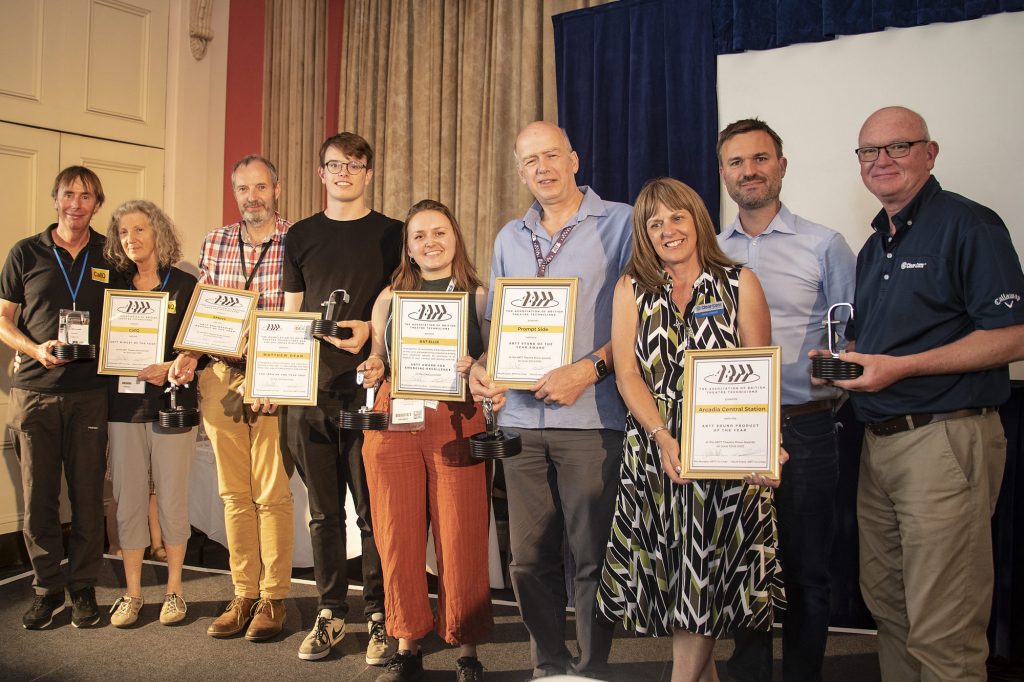 The Jury, made up of an experienced group of working practitioners and industry peers, awarded as follows:
ABTT LIGHTING PRODUCT OF THE YEAR 2022
Robe | T11


Presented by ABTT Co-Chairs Mig Burgess Walsh (left) and David Evans (centre) to Dave Whitehouse, (right) Robe Theatre Project Manager, for the Robe T11.
Judges' comments: "This product fills a void in the industry offering not only a new LED fixture, but by  also addressing the industry wide challenge of developing sustainable technology. The units are also compact, well-built and have a range of uses."
Judges' commendation: "The ETC Eos Apex builds upon a well-established family of consoles which have already formed the backbone of the industry. The user interface expands access to many useful features which speed up the programming of productions."
ABTT SOUND PRODUCT OF THE YEAR 2022
Clearcom | Arcadia Central Station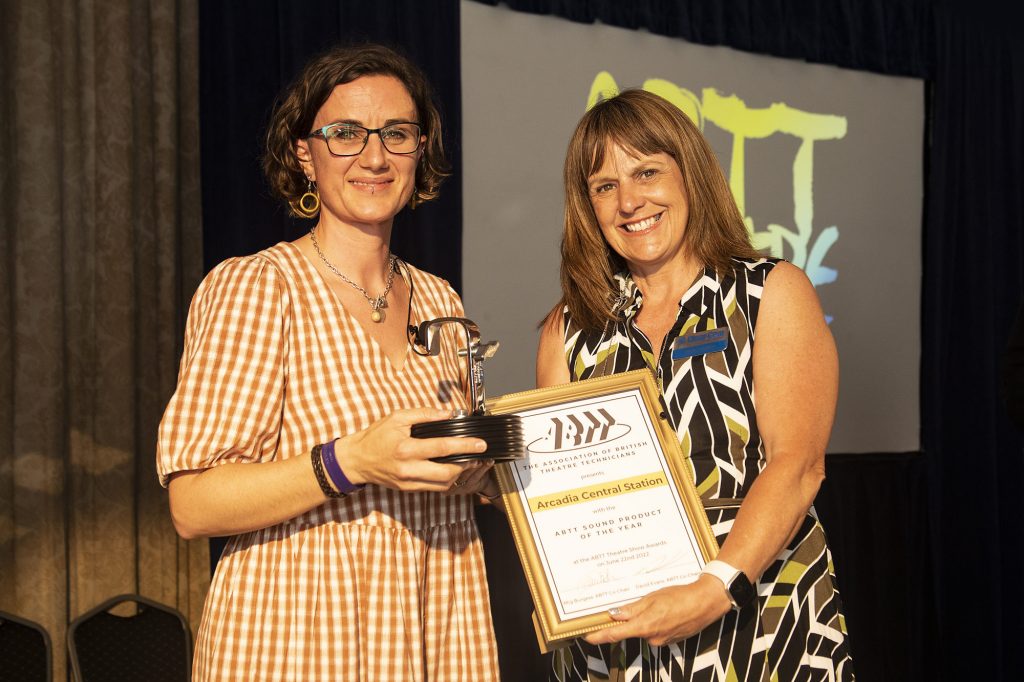 Presented by ABTT Co-Chair Mig Burgess Walsh (left) to Nicki Fisher (right) of Clearcom for the Arcadia Central Station.
Judges' comments: "The Arcadia unifies a multitude of systems and standards together within one unit. The integration of comms and audio over IP gives flexibility out of the box; vital in the digital theatre age.
A sleak web interface with a user friendly GUI provides an intuitive overview of your complete comms environment."
Judges' commendation: "An immensely flexible and powerful amplifier with built in Dante interface bringing a high channel count in a small form factor; the d&b 5d amplifier is capable of delivering in an immersive sound environment."
ABTT ENGINEERING PRODUCT OF THE YEAR 2022
XM Automations | XMove

Presented by ABTT Co-Chairs Mig Burgess Walsh (left)  and David Evans (centre) to Mark Ager (right) of XM Automation for the XMove
Judges' comments: "A very flexible console with lots of potential to fully integrate into venues of many sizes. The console has been designed with the user in mind, including the ability to develop the programming offline with visualisation of the model included as standard. Also of note is the development of a standard protocol for automation control."
Judges' commendations: "This is an innovative product which offers a wide range of uses. The Whirly Reeler is a well-engineered product which is one to watch in the future."
ABTT WIDGET OF THE YEAR 2022
CallQ | CallQ Showcaller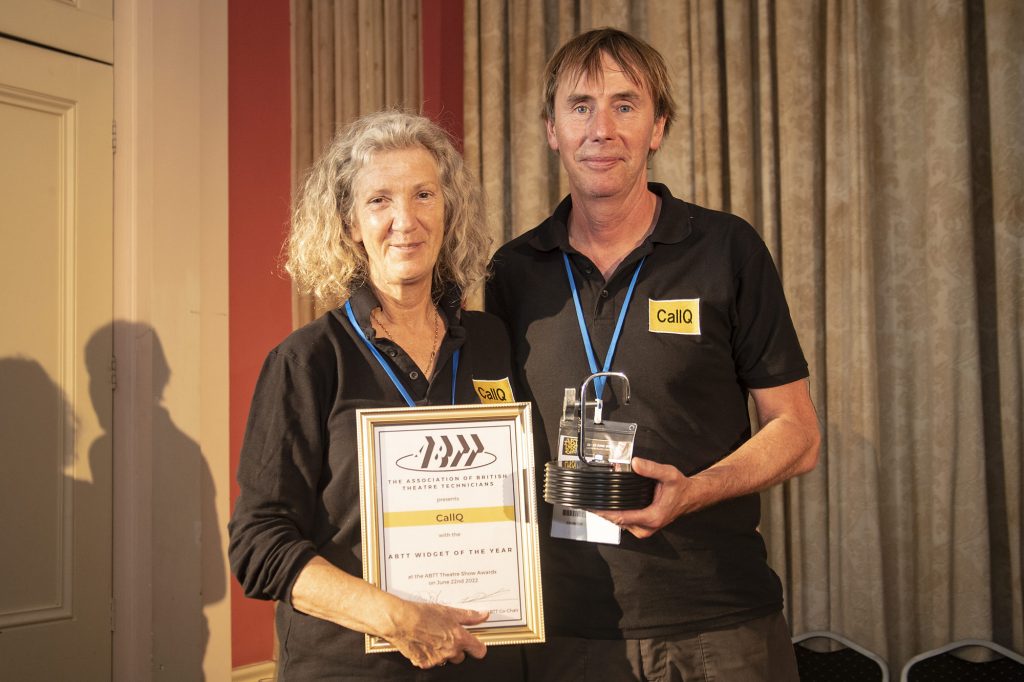 Featured: Gail Pallin(left) and Ian McConnell (Right) of Call Q
Judges' comments: "This product is an excellent tool to use for both stage managers and show callers in training along with developing skills for those already in the industry. The software is highly flexible and will be a great asset for all those who use it."
Judges' commendation: "This plug-in by trackingThis fills a gap in the industry and is highly beneficial to all those who use it. It goes hand in hand with the already well-established trackingThis system."
ABTT THEATRE SHOW 2022 STAND OF THE YEAR
Prompt Side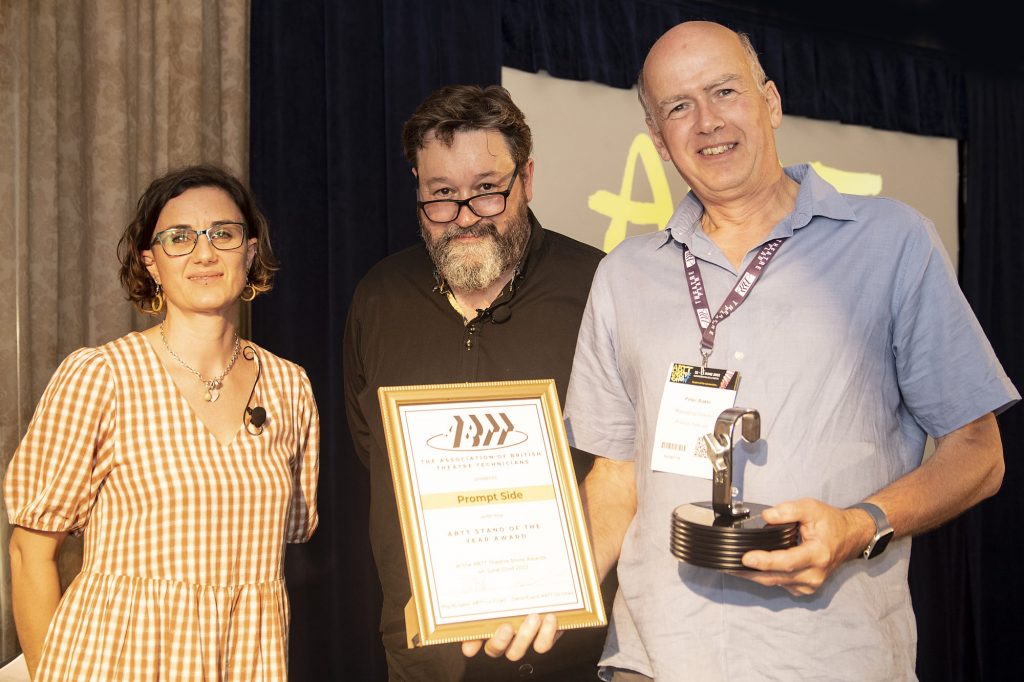 Collected from ABTT Co-Chairs Mig Burgess Walsh (left), David Evans (centre) by winners Promptside
Judges' comments: "As ever a lot of people made a big effort and the Theatre Show looks stunning as a result, especially with the new layout giving a more open view of the hall on entry. One of the criteria for judging the Stand of the Year Award is that it clearly shows what the exhibitor does. Prompt Side demonstrated their creative process, with a beautifully illustrated textile backdrop and printed floor framed by drapery showing off their expertise in digital printing, textiles, curtains, and bespoke drapery. The inclusion of an "instagram worthy moment" inviting attendees to take a picture with Prompt Side's cat was also thoroughly engaging."

ABTT TECHNICIAN OF THE YEAR 2022
(collected on behalf of) Daniel Ewing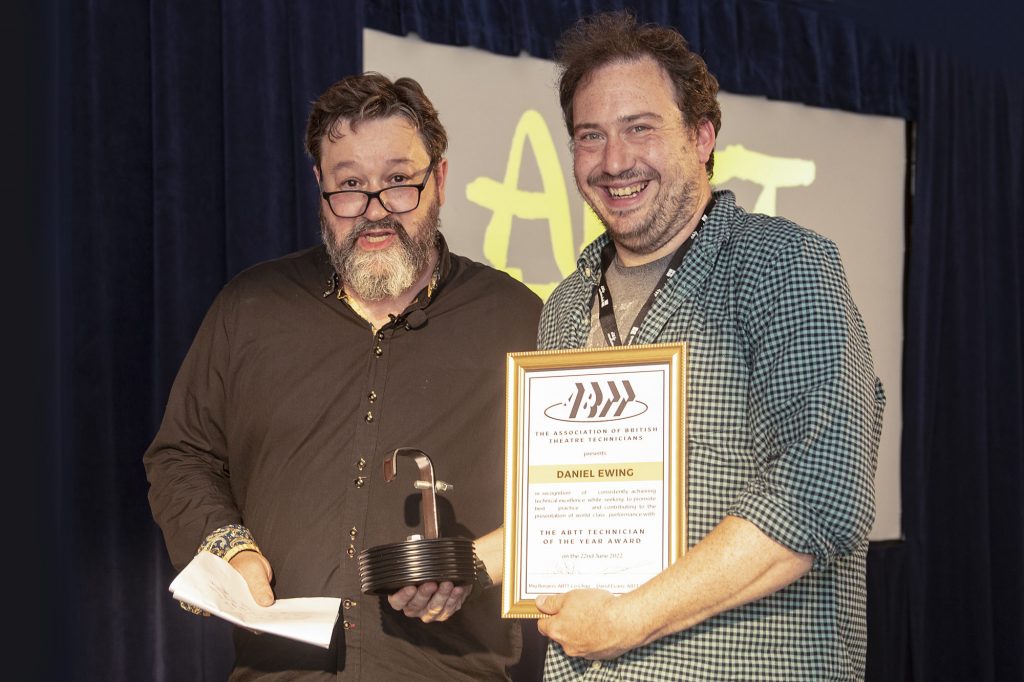 Collected from ABTT Co-Chair David Evans (left) by Alastair Kleissner (right) on behalf of of winner Daniel Ewing
Citation
"Daniel was one of the first back into a theatre post lock down, working from the first day we we're allowed with a smile and compassion. He ran the fit-ups for every show in London that opened and adjusted to everyone's COVID needs seamlessly, never getting down when jobs were booked and cancelled again and again. He is the best crew boss in the business by a long way!
Once London had gotten itself back on track Daniel went out as a Production Carpenter and did the same on the regional circuit. Without him the UK theatre scene would look very different than it does now."
ABTT AWARD FOR EMERGING EXCELLENCE FOR 2022
Kat Ellis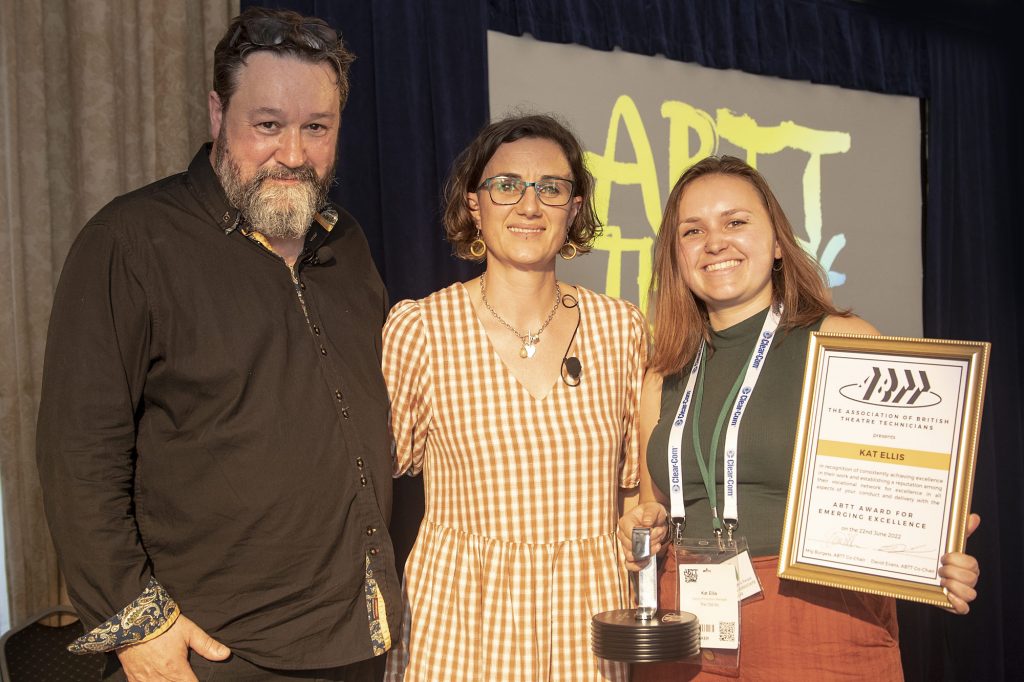 Presented by ABTT Co-Chairs David Evans (left), Mig Burgess Walsh (centre) to winner Kat Ellis (right)
Citation
"Kat was brought on board a production I was lighting very late in the process – thank God she was.  From the moment she started working, all the cogs suddenly started lining up and everything became much smoother. Not only is she extremely good at her job, but she's a joyous presence to be around, with good humour, unflappable professionalism and unrivalled compassion. I would recommend everyone 'to be a little bit more Kat' and would commend her to any company big or small looking for an excellent PM."
ABTT VIRTUAL IDEAS PLATFORM "IDEA OF THE YEAR" 2022
Matt Dean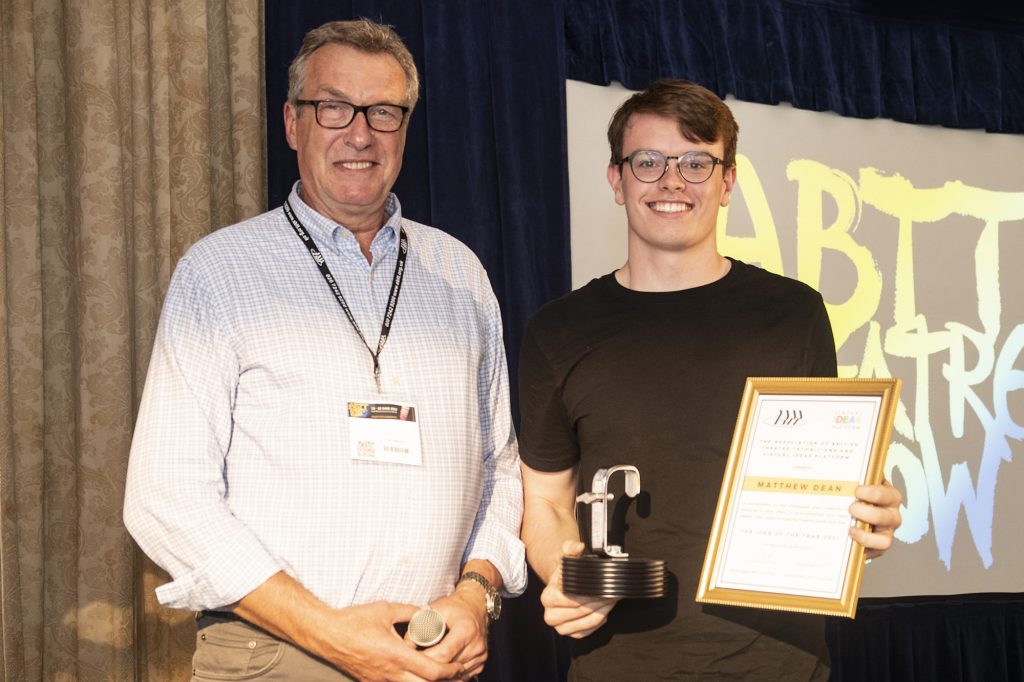 Presented by Virtual Ideas Platform founder Charles Haines (left) to winner Matthew Dean (right)
Citation
The ABTT Virtual Ideas Platform "Idea of the Year" 2022 is awarded to Matt Dean for his innovative development of a Production Desk, which offers users an ergonomically comfortable and safe experience but takes into account the specific needs of the theatre industry, such as rapid turnarounds and the need for space-efficient storage. Recognised by the Virtual Ideas Platform assessment  panel of industry notaries as a vast improvement on previous 'in house' versions, Matt's Production Desks are attracting interest from a number of potential developers.
Congratulations to all the above winners!