Celebrating the Life of Antonia Collins
4 June 2023
The ABTT were saddened by the news of the passing of Antonia Collins, well known throughout the industry.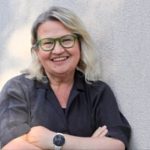 The SMA extended their commiserations of their "colleague and friend… who was known for her extensive SM skills willingly shared, her SM training, inspiring teaching, and her infectious enthusiasm."
The SMA are taking the opportunity of the gathering at ABTT Theatre Show over the 7th -8th June to celebrate the life and work of Antonia who continues to be very sadly missed by her many friends and colleagues backstage and in SM education and training colleges across the world.
Antonia had been a professional Stage Manager for over 30 years working extensively in the UK and overseas. Originally starting as an Assistant Stage Manager in repertory theatre she then went on to specialise in opera production. In 2000 Antonia took up a lecturing role at the Royal Welsh College of Music and Drama in Cardiff UK.  This led to a number of opportunities to work in SM education and training in Asia and USA, including many visits to USITT gatherings. Antonia was also very often present at ABTT and PLASA Shows in the UK.
Lots of members have reached-out in the last couple of weeks regarding the terribly sad news of the passing of beloved colleague and friend, Antonia.
Antonia's family would like to say a heartfelt thank you for all the tributes and love which have been pouring in from across the globe.
The funeral for family and close friends only was held on Friday 26th May. The family want friends and colleagues to know that there will be opportunities to come together to celebrate Antonia.  The first memorial will take place in Cardiff on Sunday 25th June at the Royal Welsh College of Music and Drama. More details to follow.
There is a digital memory board up and running for comments, memories and joyous stories to be retold, being managed by Claire Porter and Jacqui George of the SMA.
The family have asked that no flowers be sent, but some charities to donate to in Antonia's name will be chosen.
"In the meantime, hold your loved ones close."
The link below has been kindly made available by our friends at Stage Managers Association USA to share with UK colleagues and is a very interesting watch and fitting tribute to Antonia's wealth of experience and knowledge about SM practices around the world and her skill as an inspiring educator: https://www.stagemanagers.org/2020/05/06/comparingukusasmpractices/