Work at height with Personnel Fall Protection Systems (PFPS) (One day CPD)
The Work at height with Personnel Fall Protection Systems (PFPS) course is a one day course which provides you with a CPD Certificate upon completion.
What does the course cover?
This course provides an introduction to working at height in the entertainment industry using Personal Fall Protection Systems and will provide an appreciation of the worker's legal duties and how to use simple PFPS when carrying out tasks at height.
Underpinning knowledge considered on the course will cover:
Opening multiple choice quiz.
Definition of working at height in the entertainment industry
The Work at Height Regulations 2005
The hierarchy of fall prevention and safe systems of work
Fall arrest theory – fall factors and energy absorbers
Selection and specification of PPE for work at height
The dangers of using fall arrest equipment without proper anchors
Rescue principles and planning
Suspension syncope/suspension intolerance
Practical skills considered on the course will cover:
Pre use checks of PPE
Fitting and using personal fall protection PPE
Progression using twin lanyards
Using a work positioning lanyard

as a work restraint lanyard
in work positioning applications

Creating an anchor using a sling to EN795B
How do I apply?
To apply for the course, simply fill in the form below and return to the ABTT Office via email on office@abtt.org.uk.
Please be aware that your course place will not be secured until full payment or purchase order has been received.
Availability:
This course can be offered as in-venue training. If you are an Affiliated Organisations or ISG Members and want to enquire about hosting this course please contact us on: training@abtt.org.uk
Female Technician backstage wiring
I am delighted. I thoroughly enjoyed the training and already finding the course notes very useful. I think because the course was taught by industry professionals, the real life accounts and the real life experience really helped me to understand topics more in depth. Looking forward to my next course already!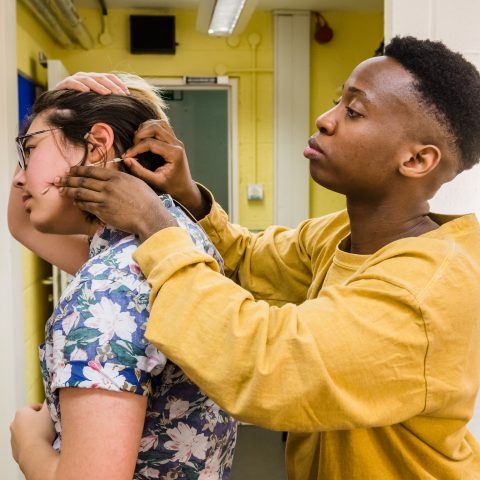 Find out when our next courses are here!
Click here to see what dates our next courses are running and to sign up and validate your skills today!
What are you waiting for?