ABTT 60th Anniversary Social
Member's price FREE
Non-member's price FREE
11 June 2021 | 4:00 pm - 6:00pm
Zoom, Online Event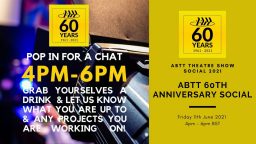 In celebration of the ABTT 60th Anniversary and the centenary of the birth of Stephen Joseph – one of our founder members, the ABTT will be hosting a social online so we can all have a catch up!
Scheduled for Friday 11th June 2021, Affiliates, Associates, Members, Supporters, Fellows and any and all friends of the ABTT and SJC are invited to join between 4pm and 6pm.
We may not be able to provide you with nibbles or drinks, but we are looking forward to seeing you all online and giving you the chance to speak with people, you may not have had chance to so far this year!
This will be a great way to catch up with colleagues, friends and even meet a few new faces – and you don't even have to travel! We'd love to hear about what you have been up to, what upcoming projects you might be working on and everything else!
We will have a number of break out rooms so that you can head into a room with different groups or individuals and have a conversation – just like at the real show!
To all our members and friends, new and old, we look forward to seeing you there!