ABTT Annual General Meeting 2020
Member's price FREE
4 September 2020 | 2:00 pm - 4:00pm
Online, Zoom Event
Following the AGM and Council Elections announcement, we will host an online presentation on alternative protocols to social distancing in places of live entertainment.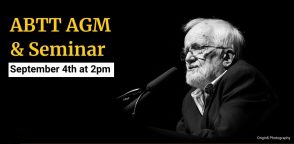 The ABTT will hold its Annual General Meeting online this year, on the 4th September at 2pm. We will be celebrating the Association's achievements and of course reflecting on the impact of recent events.
Formal business will commence at 2pm. Following this we can now confirm a gripping online seminar with Richard Pilbrow entitled: "Social Distancing, oh no you can't!" As a vehement anti-social distancer he will be investigating other protocols that could be used instead during this seminar.
RSVP via the booking link above or clicking here.
To review the Agenda for the meeting please see here.
Please note that only MEMBERS, HONORARY MEMBERS & FELLOWS of the ABTT are eligible to vote. A list of their names may be found here.