ABTT Apprenticeship Network: Create Britain – An Introduction
Member's price FREE
Non-member's price FREE
15 June 2021 | 2:00 pm - 4:00pm
Zoom, Online Event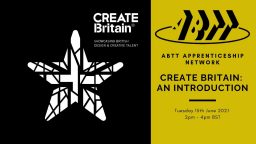 The Apprenticeship Network is a safe space for past, future, current apprentices to ask & answer questions, advice or help with no judgement
About this event
In this seminar Richard Woods, co-founder of CREATEBritain will introduce the online platform and its latest upgrade, explaining its features and the benefits of joining.
Richard will explain the purpose of the platform and it's use for creative individuals while walking us through how to create a profile and use the site in detail.
Allowing the promotion of skills and work to relevant and engaged audiences, this platform will help you to be found by peers and business opportunities, pulling everything together as an easy to find, quick to navigate hub – connecting all online media channels.For students and apprentices it is a first step in connecting passion and skills with learning and career opportunities.
This session will be followed by a Q&A and an opportunity for the Apprentices to speak amongst themselves in safe space for where they can ask and answer questions, ask for and provide advice or help with no judgement.