ABTT Seminar: The ABTT at 60 Years!
Member's price FREE
Non-member's price FREE
11 June 2021 | 2:00 pm - 3:30pm
Zoom, Online Event
Book now to avoid missing out – limited tickets available.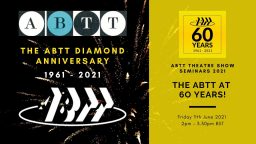 Join us for 'The ABTT at 60 Years!', presented by the ABTT's Stephen Joseph Committee.
We will hear from a number of people involved in the ABTT over the years and they will discuss the achievements of the ABTT, the work it is doing today and what the future looks like for industry organisations.
This seminar is the fourth in a series of six and will be hosted by Paul Roberts (PhD Candidate, Royal Central School of Speech and Drama).
Panelists include Richard Pilbrow (Founding Member, ABTT), Anette Ollerearnshaw (Founding Member, ABTT WHAM Committee), Ali Pottinger (Founding Member, The Technical Theatre BSL Committee) and Jessica Nicholls (Young Associate Representative, ABTT).
This seminar is followed by a Q&A session where you will be able to pose your own questions to the panelists.