ABTT Bronze Award for Theatre Technicians, London (FULLY BOOKED!)
Member's price £740 + VAT
Non-member's price £855 + VAT
5 – 9 September 2022 | 10:00 am - 5:00pm
London , Royal Central School of Speech and Drama
Please note that in completing the online application you are confirming that you wish to attend this course.
Should you wish to simply enquire about the course please contact the office or Tel: 020 7242 9200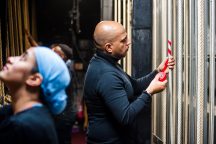 The course includes:
–      Manual Handling and Introduction to Health & Safety at Work Act 1974 *

It has been estimated that more than one-third of all workplace accidents are caused by manual handling activities. The risks associated with manual handling include musculoskeletal injuries and injuries caused by the handler falling. The Manual Handling Operations Regulations 1992 impose a duty on employers to avoid the risk of injury to employees through instruction and induction.  This course directly relates to theatres, stage technicians and workshop staff and includes discussion of the TMA / BECTU guidance on the Code of Conduct for Fit-ups and Get-Outs. This is City and Guilds accredited course.
–     Electrical Fundamentals *
The course content includes accompanying documentation to cover basic electricity – atom – electron flow – conductors – insulators – switching – metering – resistance – power – electrical supply – generation – AC / DC – frequency – three phase – introduction to BS7671 Requirements for electrical installations.
–     Ropes, Knots and Splicing *
The course covers the handling of different ropes and tying knots proficiently and safely. Teaching is by practical demonstration of knots that are useful in theatre situations. Candidates learn to differentiate between synthetic and natural fibre ropes; to splice rope ends with long and short splicing; the tools for splicing manila, hemp and sisal ropes and to tie knots including bowline, clove hitch, reef knot, wagon hitch, rolling hitch and sheet bend.
–     Fundamentals of Flying *
The course teaches the safe handling of counterweight sets and hemp and covers: terminology; parts of a counterweight set; loading and unloading; operating; first line maintenance; single and double purchase systems; putting knots into practice; tying off at a pin rail; spotting and other methods of hanging. This course is relevant to venue technicians who operate counterweight flying or only hemp flying.
–      Safe use of temporary access equipment *
This course teaches the safe use of temporary access equipment such as step ladders (including Zarges), ladders, trestles, Tallescopes and mobile scaffolding. The course covers selecting appropriate equipment, planning and managing work at height, inspection and record keeping, manoeuvring, assembly and use of access equipment. The course has a major practical bias and includes moving occupied Tallescopes in accordance with the ABTT Code of Practice for the use of Tallescopes for working at height in theatres.
–       Awards Test
* Accredited by RCS to SCQF Level 7
Credit for image - The Stage
Location
Royal Central School of Speech and Drama
Eton Ave, Belsize Park,
London NW3 3HY
View larger map