ABTT Online Seminars Open for Booking (10th -11th June)
Member's price FREE
Non-member's price FREE
10 – 11 June 2020 | 10:00 am - 8:00pm
Online, Webinar
Please ensure that you register to attend each seminar you are interested in joining. There are limited spaces available.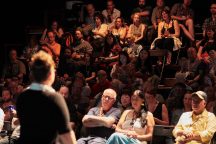 In light of the postponement of the 42nd ABTT Theatre Show until 2021, the ABTT felt that it was necessary to mark the occasion and provide our usual attendees with something to commemorate this event during the current pandemic.
While we cannot recreate or replace the experience of the ABTT Theatre Show, we hope to enable some of the conversations and discussions that take place when theatre people come together, we would like to invite you to a programme of online sessions running over Wednesday 10th – Thursday 11th June 2020.
We will be hosting 10 online seminars at no longer that 90 minutes (including Q&A).
Details on each seminar can be found below. Please register for individual events by clicking the seminar titles here.