ABTT Seminar: Actors, Architects and Theatre Futures
Member's price FREE
Non-member's price FREE
13 May 2022 | 2:00 pm - 3:30pm
Zoom, Online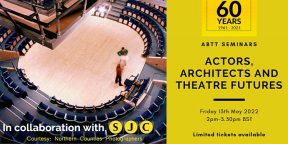 In this the final webinar of Stephen Joseph's Centenary Year, we explore two key threads in the producer's thinking: the importance of creating a high level of immediacy between actors and audience – as in theatre in the round; and the importance of finding ways to develop new theatre writing and work.
We will hear from a number of practitioners considering the development of the first permanent theatre in the round in the Potteries sixty-years ago, and in particular the realisation of "the New Vic" theatre in the 1980s, the first purpose-built theatre in the round in Europe, lovingly built to Stephen's ideas by Peter Cheeseman and the architect, John Sambrook.
Stephen Joseph was always looking to the future, and seeking to nurture new writing talent, at a time when only pre-censored scripts were permitted. We think he would have admired the kind of enterprising schemes discussed by our later panellists to ensure the next generation of theatre makers are placed at the heart of the creative process.
This seminar is the final in a series of six and will be hosted by SJC Member Bob Millington, producer of "Stephen Joseph, A Pictorial Round-Up".
The panel consists of:
John Sambrook – Architect of the New Theatre Vic Newcastle-under-Lyme;
Chris Martin – Veteran actor at both the old and new "Vics" in the Potteries;
Laura Whitehurst – Head of Creative Development – Contact Young Company Manchester (a highly commended entry in the Stephen Joseph Award 2021);
Dave Wybrow – Director of the Cockpit Theatre, Marylebone;
This seminar is followed by a Q&A session where you will be able to pose your own questions to the panelists.