ABTT Seminar: An Introduction to Stephen Joseph
Member's price FREE
26 February 2021 | 2:00 pm - 3:30pm
Zoom, Online Event
Tickets for this event are limited so please do register if you wish to attend.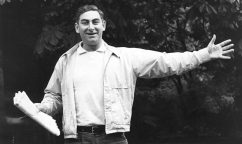 Join us for 'An Introduction to Stephen Joseph' which will see members of the ABTT's Stephen Joseph Committee talk about their time working with theatre practitioner Stephen Joseph, best known for pioneering theatre-in-the-round.
The panelists will talk about their experiences working with Stephen Joseph, the effect he had on their own careers and share their thoughts on what he may think of theatre in the modern day.
This webinar is the first of six and will be hosted by Dave Wybrow (Theatre Director, The Cockpit). Dave will be joined by Alistair Livingstone (Stephen Joseph Committee Chairman, Designer and Director), Terry Lane (Founding Artistic Director of the Traverse Theatre and Author of 'The Full Round'), Faynia Williams (Theatre Director and Artistic Director of Brighton Theatre) and Terry Wilton (Actor – most recently Mr Kipps in 'The Woman in Black' on London's West End).
This webinar is followed by a Q&A session where you will be able to pose your own questions to the panelists.
© Scarborough Theatre Trust/SJT