ABTT Seminar: Caring for your Theatre and Live Art Records
Member's price FREE
Non-member's price FREE
24 November 2021 | 2:30 pm - 4:00pm
Zoom, Online Event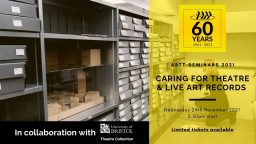 Join the ABTT and the University of Bristol Theatre Archive in talking about how to care for your Theatre and Live Art records.
About this event
In this session we will be joined by Paul Roberts, member of the ABTT's Historical Research Committee and members of the University of Bristol Theatre Collection in speaking in greater depth about how to look after your records.
We will be discussing the best ways to preserve your paper-based and audiovisual documentation, understanding records and archives and looking in greater detail at some of the Theatre Collection's archival collections. We will also be conversing about the Records at Risk project.
We will be joined by members of staff from the University of Bristol Theatre Collection including Lucy Powell, Keeper of Theatre Archives; Sian Williams, Project Archivist for the Theatre and Live Art Records at Risk project and Nigel Bryant, Audiovisual Digitisation Officer.
This seminar will take place online, with a Q&A following the main discussion.
Please book to be provided with the details to join this event.