ABTT Discussion: Cultivating a culture of well-being in the workplace
Member's price FREE
4 February 2021 | 3:00 pm - 4:30pm
Zoom, Online Event
Please ensure you book tickets for this event as limited numbers are available. This event will not be recorded as it is an active discussion.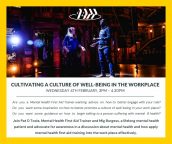 As part of National "It's time to talk day" we are asking the question: "How can we create a better culture nurturing well-being in the work place?
Mental health problems affect one in four of us, yet too many people are made to feel isolated, ashamed and worthless because of this. Time to Talk Day encourages everyone to be more open about mental health – to talk, to listen, to change lives.
A small conversation about mental health has the power to make a big difference. We know that the more conversations we have, the more myths we can bust and barriers we can break down so please join the ABTT on the 4th February to help facilitate this conversation. This will be an interactive session and open discussion so tickets are limited.
About this Event
We will be joined by Personal Development Coach, Trainer and Mental Health First Aider Pat O Toole. Pat helps individuals and organisations improve their mental health and well being and communicate effectively. She currently works at Rose Bruford College as a Course Director and is involved with The Mental Health Charter for Performing Arts.
Pat will be helping to share best practice and talking about how you can apply mental health first aid training into the work place effectively.
We will also be joined by Mig Burgess who is a lifelong mental health patient and advocate for awareness. She will bring her perspective as a mental health sufferer who has used Mental Health First Aiders' and other mental health provisions as a patient.
We look forward to seeing you there!