ABTT Seminar: Design Beyond the Proscenium
Member's price FREE
Non-member's price FREE
9 July 2021 | 2:00 pm - 3:30pm
Zoom, Online Event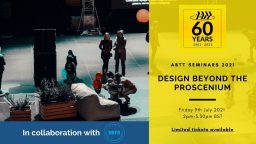 Join us for 'Design Beyond the Proscenium', presented by the ABTT's Stephen Joseph Committee in collaboration with The Society of British Theatre Designers.
We will hear from a number of practitioners who have created exciting and innovative productions not using traditional staging. They will talk about some of their projects, the relationship between the audience and their environment and some of the practical considerations.
This seminar is the fifth in a series of six and will be hosted by Dave Wybrow (Director – The Cockpit, Marylebone). The panelists are Anna Furse, David Farley, Diana Ford and Klaus Kruse.
This seminar is followed by a Q&A session where you will be able to pose your own questions to the panelists.