ABTT Stage Pyrotechnics Safety Awareness Course: 1-day CPD (FULLY BOOKED)
Member's price £155.00+VAT
Non-member's price £255.00+VAT
31 July 2022 | 9:30 am - 5:00pm
Coventry
Please note that in completing the on-line application you are confirming that you wish to attend this course.
Should you wish to simply enquire about the course please contact the office or Tel: 020 7242 9200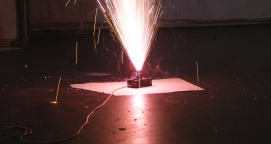 What is the Stage Pyrotechnics Safety Awareness Course?
The ABTT Stage Pyrotechnics Safety Awareness Course is a theatrical based, workshop style, training day. The course provides operational safety information from industry experienced tutors via 'hands-on' exercises and 'live firing' demonstrations. The course focuses on the  safety implications associated with the use of popular, publicly available, Stage Pyrotechnic devices.
Who can do the course?
These Individual Certificated Courses are open to ABTT Members and non-members alike and are ideal for lighting/sound professionals, community theatre technicians, stage managers, students, venue managers, insurers, fire/security officers, indeed, anyone in the  entertainment industry who has an interest or finds themselves associated with Stage Pyrotechnics.
What does the course cover?
• Workshop presentations and live device demonstrations
• Videos and observation exercises
• Candidates' operation of devices and pressing buttons
• History and Accidents
• Flame Proofing and Fire implications
• Maroons, Flash Reports & Concussions and Noise
implications
• Fragmentation Tanks (Bomb tanks)
• Flashpots, Jets, Gerbs, Robotics, Comets, Mines
• Wiring Conventions (Series/Parallel) and Electrical Testing
• Risk Assessments and Record Keeping
• Law, HSE, Storage and Transport Guidance
What will I be able to do at the end of the course?
The course will provide candidates with an opportunity to keep 'up to date' with 'considered best practice' and familiarise themselves more readily with new and current regulations, alongside forthcoming UK/EU legislation. The course will also serve as an ideal refresher for  Technicians who have to produce certificates of awareness, to keep themselves 'In date'.
The candidates will also receive a comprehensive set of notes and subject to satisfactory completion of the course, will receive a certificate, signed by the tutor, and automatic enrolment with the Association of Stage Pyrotechnicians register.
Image Attribution: JustFX