ABTT Stephen Joseph Committee Meeting – November 2021
M
25 November 2020 | 3:00 pm - 5:00pm
This meeting is invite only.
If you are interested in joining the committee or the SJA please contact: office@abtt.org.uk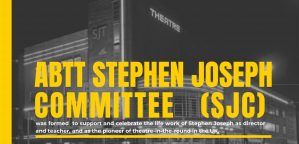 The SJA was formed to support and celebrate the life work of Stephen Joseph as director and teacher, and as the pioneer of theatre-in-the-round in the UK. His legacy and name live on though the theatres he created, and also through the newly created Stephen Joseph Association.
What we do:
The aim of the SJA is to promote Stephen's legacy and, in particular, to celebrate the centenary of his birth in 2021 with projects and collaborations which investigate and extend the awareness of his influence on the design and development of new theatre forms, writing and performance.