An invitation from Nica Burns to ABTT Members: A party to honour Ian Albery
M
Member's price FREE
3 November 2022 | 4:00 pm - 8:00pm
London , Soho Place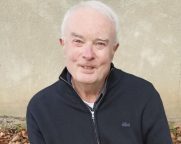 An invitation from Nica Burns.
Delighted to invite you to celebrate the extraordinary achievements of theatre legend Ian Albery on his 86th Birthday.
The beautiful new Soho Theatre owes a lot to Ian who contributed hugely to the design process and guided Nica through the critical early stages. Now living in France, it would be very special for him to see his old friends and colleagues – traveling is becoming a challenge and he is unlikely to be back in town soon. Please do extend this invite to anyone who new and worked with Ian and you think would like to come.
Dress code: Smart casual
RSVP is essential by Monday 31st October events@nimaxtheatres.com or Phone Lily Maccleary on 020 7395 0790