Association of Sound Designers: Winter School 2020
Member's price FREE
6 – 10 January 2020 | 12:00 am - 6:30pm
London, Royal Central School of Speech and Drama
ABTT Members can use the following promotional code to gain access to this ASD Members only event (excludes the equity chat and ASD social.)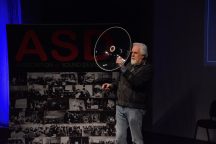 The Association of Sound Designers is very excited to announce the third of their flagship triennial seminar events: The Winter School 2020.
This is a week-long series of theatre sound related seminars being held Monday 6th January – Friday 10th January 2020, including leading industry professionals such as Carolyn Downing, Ben and Max Ringham, Richard Brooker and Scott Willsallen.
The seminars are aimed at undergraduate, recent graduates, apprentices and educators, as well as anyone else looking to expand their knowledge. Admission is free for all students and tutors, as well as ABTT members (excludes the equity chat and ASD social.)
Winter School is also home to the Tech Hub this year. Running alongside the seminars in our main space, the Tech Hub will enable attendees to get hands on experience of the newest sound equipment available from d&b, L'Acoustics, AVID, Shure, Meyer and many more, with representatives there to talk and explain.
We last ran Winter School in 2017. and it was an incredible success, with hundreds of attendees from RCSSD, LIPA, Goldsmiths, Rose Bruford, LAMDA, University of Surrey, Queen Mary College and many others.
Royal Central School of Speech and Drama are again very kindly providing us with the Embassy Theatre to hold the event.