Back to work: Challenges to consider and resolve (Plasa Online – ABTT Seminar)
10 May 2021 | 4:00 pm - 5:00pm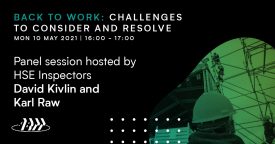 Returning to work after the removal of government restrictions will raise a number of issues not commonly encountered:
Recruitment
Fitness
Muscle memory
Skills fade
Current competence
Mental health and wellbeing
An opportunity to consider the challenges of restart.
A panel of live performance Production and Health & Safety practitioners will be joined by HSE Inspectors David Kivlin and Karl Raw responsible for policy and engagement with the Entertainment industry.
Participants at this session will have the opportunity to raise questions and share plans and strategies they have developed and adopted.