Backup Pumpkin Challenge (Competition)
Member's price FREE (donations welcome)
Non-member's price FREE (Donations welcome_
31 October 2020 | 12:00 am - 12:00am
This is a competition. Deadline for entries is 31st October.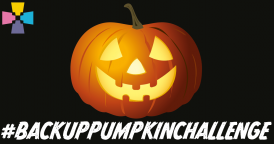 The Backup Pumpkin Challenge is a competition to help raise awareness of the Charity in a fun and creative way.
We want you to get involved – as an individual, company or team. All you need is a pumpkin, your design and any props or tech you want to incorporate to bring your design to life.
The Backup Pumpkin Challenge consists of 5 Categories
Best overall design (judged by panel)
Best use of tech (judged by panel)
Best Design by Future Creative* (judged by panel)
Most overall likes (on Instagram)
Cutest Fur Baby Pumpkin Pic ** (most overall likes on Instagram)
Entry Details / Terms & Conditions
Minimum requirement is a pumpkin and your design
Entry is free, though donations are always welcome – visit the Backup website if you wish to make a donation
To enter your design upload a maximum of 3x photos and/or Video of which is no more than 15 seconds to Instagram
Upload your entries onto your Instagram* using the hashtag #BackupPumpkinChallenge along with your name or team name – If you don't do this we can't see your entry to judge.
All entries must be posted on Instagram using #BackupPumpkinChallenge by 31st of October 2020
'Most Overall Likes' judging will take place at 9am on 5th November 2020
'Best Overall Design',  'Best Use of Tech' & 'Best Design by Future Creator' will be deliberated by judging panel after 31st October 2020
All winners to be announced on the 5th of November 2020
Judges have final ruling on all entries
Winners will be contacted by Backup on announcement date
Winning designs will be promoted on Backup social media pages, marketing material and industry press
Any further questions regarding the above entry details and T&C's please contact info@backuptech.uk
Deadline for entries is 31st October. Find out more about the competition and how to enter here.