Carry On Touring – UK-EU Summit 20th May 2021
Member's price FREE
Non-member's price FREE
20 May 2021 | 2:00 pm - 4:00pm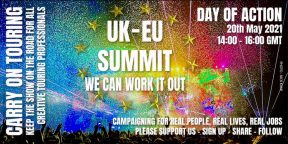 You are invited to this important UK-EU Summit which will bring together representatives from across the UK and European Union to participate in a day of action and to demonstrate support for creative touring professionals and artists.
The failure to secure an exemption in the TCA to allow for freedom of movement for those on tour will have a catastrophic impact on both the UK's and EU's cultural economies. All touring art forms will be affected and in particular young and emerging artists. Without a return to the negotiating table many jobs and livelihoods will be lost; as well as income for crew, haulage and production, at a time when the sector desperately needs a lifeline.
Carry on Touring is the UK's umbrella campaign which all those who and rely on touring can support and sit under. It brings together voices from across the touring, cultural and creative industries sector to secure political and public support for Tim Brennan's petition. The strength of our campaign is that it is inclusive reaching across the sector, industry and political parties; focusing on the real people, real lives and real jobs affected.
The current impasse needs to be unlocked. We believe our ability to carry on touring will only be addressed, in any meaningful sense, via a visa waiver/cultural passport agreement with the EU, which exempts touring performers, creative teams and crews.
Our UK-EU Summit is designed to unite support across the UK and EU and call on the UK Government and EU representatives to get a deal done that supports real people, real lives and real jobs. It simply makes no sense to block touring artists and professional's ability to earn and pay tax in an industry that brings pleasure to millions of people.
This is not an issue that just affects the UK. Europe has experienced many challenges and upheavals in recent months and years. The value of this cultural exchange is huge to both economies and social wellbeing. We should be working to resolve this issue together and to create rich new collaborations for the generations to come.
We very much hope that you will join us at the UK-EU Summit and that your voice will be represented. Please register your attendance via Eventbrite here – or if you would like further information about how you can support our day of action on the 20th, please email info@carryontouring.uk. 
We can find a workable solution and, together, we can work it out.