CREATEBritain: Linking creative industry practitioners; skills, knowledge, experience (Plasa Online – ABTT Seminar)
12 May 2021 | 4:00 pm - 5:00pm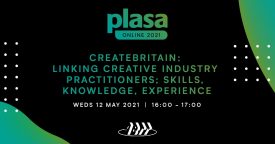 CREATEBritain is an online platform developed specifically for the creative industries.
For creative individuals it helps you to be found by  peers and business opportunities, pulling everything together as an easy to find, quick to navigate hub – connecting all online media channels. It allows the promotion of  skills and work to relevant and engaged audiences.
For students and apprentices it is a first step in connecting passion and skills with learning and career opportunities.
Richard Woods, co-founder of CREATEBritain, will introduce the latest upgrade of the platform and explain its features. Participants at this session will have the opportunity to raise questions and discuss features.