Creating Theatre in a Covid-19 landscape
Member's price FREE
Non-member's price FREE
19 August 2020 | 2:30 pm - 4:00pm
Online, Webinar
This event does have limited tickets available. Please make sure to book your ticket to attend.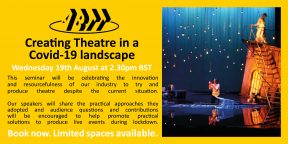 This upcoming seminar will be celebrating the innovation and resourcefulness of our industry to try and produce theatre despite the current situation.
We will be looking into how people have been thinking outside the box in their approach to trying to get back to producing work and hearing from various speakers about how they have gone about achieving this. We will investigate the practical issues that were faced and the safety measures implemented to create works during the pandemic and what, if anything, we can learn and take forward into the future production of work.
In this conversation about the practical ways to put on performances during Covid-19 we will be speaking with:
Lucy Askew Chief Executive and Creative Producer at Creation Theatre Company who have been inviting audiences to watch an interactive, virtual version of Shakespeare's The Tempest – from the safety of their sofa.
Rachael Duthie – Production Manager for Theatre Alibi who are doing fabulous work at the small scale in and around Exeter, Theatre and dreaming up socially distanced possibilities for live performance.
Dominic Fraser, Production Manager at The Old Vic who ran the initiative Old Vic: IN CAMERA, combining a run of socially distanced performances of Duncan MacMillan's LUNGS followed by a major series of rehearsed play-readings, all streamed live from the iconic Old Vic stage with the empty auditorium as a backdrop.
Ian Garrett – designer, producer, educator, and researcher in the field of sustainability in arts and culture. Producer for Toasterlab, a Toronto-based production company that recently completed a collaboration with Dancing Earth called Indigneous Futurities, which had performers from around the world collaborate in a live streaming performance.
Bola Stephen-Atitebi, a creative artiste, producer, broadcaster and an entrepreneur. During this Pandemic, Bola is co-producing an intercontinental Digital Theatre play 'The Art Of Facing Fear' designed for Zoom currently running throughout August, 2020.
Nia Thomson is a Production Manager for National Theatre Wales,  and she manages the coproduction "Network" with  the Sherman Theatre and Theatr Genedlaethol Cymru. This was a series of Digital Commissions and play readings delivered every week between May and July during the Covid lock-down.
Audience questions and contributions will be welcomed to help promote practical solutions on how to produce live events during lock-down. Book tickets ASAP to make sure you don't miss out.