ETC Light Bytes session: 'Hog Club Edition'
Member's price FREE
4 December 2020 | 4:30 pm - 6:00pm
Online, Online Event
Meet the designers and hear about their experiences on the Hog Club 2020 project as well as seeing their winning submissions.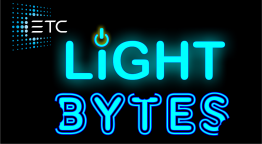 Join ETC for their last Light Bytes event for 2020 where we meet the top three finalists of our Hog Club 2020 programming project.
2020 has been a strange year for everyone, and it's been no exception for our Hog Club members. This year, Hog Club went virtual and we created a bespoke programming project for our members. Their challenge was to create a series of 'looks' for a corporate event and create a light show for a song by the band as part of the evening's entertainment. This has been a 6-week program which consisted of several online training sessions interspersed with programming time, giving the designers a chance to hone their skills on the Hog family of consoles.
Next week's Light Bytes session is the culmination of the Hog Club 2020 Programming Project and we are proud to introduce the designers and their work to you. We'll be chatting to them about their experience in the Hog Club, their other work as designers and programmers, their future plans and much more.