ETNZ 2021 Conference & Tradeshow
Member's price Click links for costs
Non-member's price Click links for costs
28 June – 1 July 2021 |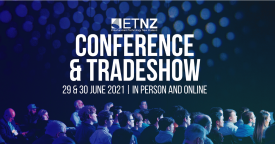 The ETNZ Executive is proud to invite you to attend the 2021 Conference and Tradeshow. After the devastating effect of COVID-19 on the industry both here and across the world, it is important that we make opportunities for our industry members to reconnect with each other and our suppliers to exchange ideas and knowledge.
ETNZ wants to support as many members as possible to attend conference and are thrilled to announce that we have obtained funding to subsidise the registration costs for financial members down to $80.50 per person. Additionally, we can subsidise the Professional Development sessions to reduce the costs and we will be providing a partial travel subsidy to enable financial members to travel to this year's conference.
We would love to see you at the full conference but understand that sometimes you can't take time off; so there will be one topic from each session live-streamed so you can join in.
If COVID Alert Levels increase any where in New Zealand the in-person conference will be cancelled, but the online sessions will still be delivered.
Conference Seminar Sessions – Tuesday 29th June & Wednesday 30th June
Tradeshow – Tuesday 29th & Wednesday 30th June
Professional Development – Monday 28th June  & Thursday 1st July
Conference Dinner – Tuesday 29th June
ETNZ AGM – Tuesday 29th June