London on Stage: A Theatrical Excursion – A Maggie Collins Christmas Lecture
Member's price FREE
Non-member's price FREE
5 December 2019 | 7:30 pm - 9:30pm
London, The Art Workers' Guild
NB Booking is only necessary if you wish to tell us about particular needs, eg accessibility concerns. There is an opportunity to do this at the checkout.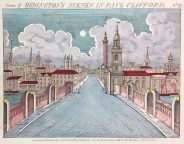 The Maggie Collins Christmas Lecture
London on Stage: A Theatrical Excursion
Delivered by Horatio Blood
Drawing upon the rich wealth of pictorial evidence in the engraved sheets of characters and scenes of the English toy theatre, or Juvenile Drama, Horatio Blood will explore how London was presented on stage during the early nineteenth century.
The capital's river, bridges, streets, public buildings and theatres provided the settings against which many melodramas were enacted. The pantomimes in particular were played out against a background of London shop fronts, with the shopkeepers, tradesmen and street folk acting as the supporting cast to the antics of Harlequin and Clown. Particular attention will be given to the sensational popularity of the numerous rival productions of Pierce Egan's Life in London.
As well as preserving a unique record of stage scenery and costumes, these cheap prints also provide an overlooked topographical depiction of a lost metropolis, and are as evocative and informative as the drawings of George Scharf or Tallis's Street Views.
Horatio Blood is an erratic transpontine showman with a particular passion for the English toy theatre, about which he has written, lectured and curated exhibitions. In league with his esteemed company of strolling players, his exuberant pasteboard performances of The Miller and his Men; Life in London; Captain Ross, the Hero of the Arctic Regions; The Corsican Brothers; The Battle of Waterloo; Blackbeard the Pirate and The Vampire have been presented at the Theatre Museum, Art Workers' Guild, Guildhall Library, Scott Polar Research Institute, National Theatre, British Museum, Old Royal Naval College and Stone House.