Online Event – An evening with Hermon and Heroda Berhane
Member's price FREE
30 October 2020 | 6:00 pm - 7:30pm
Zoom, Online Event
This event will include a Q&A for audiences and will be live interpreted for hearing audiences.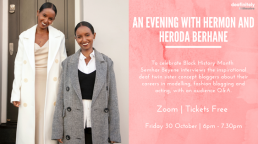 To celebrate Black History Month, Deafinitely Theatre present an evening with twin sisters Hermon and Heroda Berhane. Hermon and Heroda lost their hearing aged seven years old and have used their careers to inspire the deaf community and help make people more open to deafness and disabilities. Semhar Beyene will interview the inspirational creative twins about their careers in modelling, fashion blogging and acting.
Hermon and Heroda Berhane
As a sibling concept blog and as content creator, Hermon and Heroda Berhane showcase their passion for Travel, Fashion, Lifestyle and Beauty on BEING HER. Diversity & Inclusion also plays a big part in their message. The title of their blog is a play on their names Hermon and Heroda, but more importantly the belief that being yourself is the most powerful beauty product available.
They happen to be Deaf; they say "happen" because they don't see it as a disability as others do. They see it as an advantage. With their hearing diminished their other senses become heightened, therefore their touch, taste and vision can appreciate different aspects maybe a hearing person wouldn't. And being different from the norm is special.
Hermon and Heroda see it as a big part of their job to engage with their audience to affect change. Negative stereotypes regarding deafness, disability and race are damaging to the well-being of society as a whole. They show their bravery and attack life head-on, so, others can take inspiration. It is very important to show members of the deaf community, you can achieve…
They always encourage Black Women to travel as they believe they are underrepresented within the scope of the travel industry. They use social media to alter misconceptions and empower change.