PMF Online Forum – Reset Better
Member's price FREE
26 April 2021 | 4:00 pm - 6:00pm
Zoom, Online Event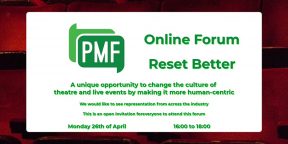 A unique opportunity to change the culture of theatre and live events by making more human-centric.
About this Event
About
The Production Managers Forum in collabration with the Reset Better working group are hosting their first forum since March 2020 around the topic of how can we make theatre and live events more human-centric.
The event will be held online via zoom for full duration.
Live Streaming
It will also be lived streamed via Facebook but will finish after the panel discussion and Q&A have finished meaning there can be time at the end to voice opinions with any concerns about them being broadcast out to the world.
Chair
Mandy Ivory-Castile – Head of Production and Technical at The Sherman Theatre