RADA: Costume and Production Exhibition 2021
Member's price FREE
Non-member's price FREE
11 – 14 December 2021 |
London, Jerwood Vanbrugh Theatre
Saturday 11 December 10am – 5pm
Monday 13 December 10am – 1pm and 5pm – 8.30pm
Tuesday 14 December 10am – 1pm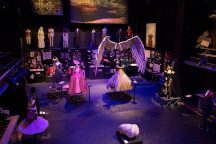 Join RADA for their annual immersive exhibition and your chance to check out the outstanding, creative work of our 2021 technical theatre graduates in costume, property making, video, scenic art and construction, which opens to the public on 11-14 December.
This event is an opportunity for friends, family, the public and those working in the industry to see the extraordinary detail and craftsmanship of our graduates' work from the Postgraduate Diploma in Theatre Costume and specialists from the BA (Hons) in Technical Theatre and Stage Management.
Join RADA to celebrate the next generation of young theatre technicians within theatre, film, and television.
Location
Jerwood Vanbrugh Theatre
Royal Academy of Dramatic Art
Malet Street

London WC1E 7JN
View larger map