School Theatre Support Group: Annual Conference 2021
13 February 2021 |
, Online Event
This is an online conference due to the ongoing pandemic.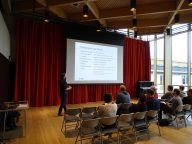 STSG Virtual Conference 2021
Our annual conference usually takes place every February at a member school. The Saturday event consists of a busy day of workshops, seminars and networking, followed by a semi-formal dinner. Several industry suppliers attend with a small exhibition of products and services; networking with other delegates and sponsors is always an important part of the day. Workshops are a mix of technical and non-technical subjects, covering practical topics and the latest trends.
This year we will be hosting a Virtual Conference for members on Saturday 13th February 2021.
The day will follow a similar format to our normal conference, with seminars presented by our sponsors, opportunities for break-out sessions and networking, and a Virtual Quiz in the evening. The main conference will run on the Zoom webinar platform from 9am until 5pm, with the evening sessions after a dinner break. Full details will be confirmed in January.