Seminar: Greening Theatre
Member's price FREE
Non-member's price FREE
2 December 2021 | 1:00 pm - 5:00pm
Bristol , Bristol Old Vic
This is an in person only, non-socially distanced, event. Participants will be asked to demonstrate that they have been vaccinated for coronavirus and to wear facemasks.
The event is free to attend but booking is essential (on a first-come-first-served basis). Registration details will be added to this page shortly.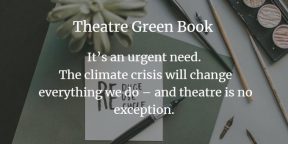 Join us to explore how theatre can reduce its environmental impact in response to climate crisis.
This is an event for anybody involved in the making and presentation of theatre in South West England and Wales (or beyond) – from designers and directors to production and venue managers.We will be launching the Theatre Green Book in the South West, and hearing from the team of sustainability and theatre specialists behind it. We will discuss how the theatre sector collaborated to create this important new resource and how can it help us all work more sustainably.
Questions that will be addressed through an afternoon of presentations, networking and in-depth discussions include:
How can the Theatre Green Book help green our theatre-making practices, performances and venues?
How do we source, reuse, recycle and dispose of the materials we work with?
How do we make theatre buildings sustainable? How do we tackle challenges such as travel and touring?
How can we reduce our need to build and buy while still making sure we meet audience needs and support a dynamic and fast-moving art-form?
How can we work together regionally, nationally and internationally so that theatre is a beacon of best practice in its response to the climate emergency?
The event will also include a problem-solving "Green Theatre Question Time" session in which attendees share their current challenges so that solutions and suggestions can be crowdsourced from sustainable theatre experts and other participants.
A limited number of travel bursaries will be available for freelance practitioners and small-scale theatre companies located in Devon and Cornwall. These can be applied for upon booking.
A full programme will be emailed to registered participants.
This event is part of the Arts and Humanities Research Council-funded project, "Sustainable Materials in the Creative Industries", and is presented in partnership with the Theatre Green Book, Sustainable Earth Institute at the University of Plymouth, and Bristol Old Vic.

Led by theatre architect Paddy Dillon, working with sustainability experts Buro Happold, the Theatre Green Book is a partnership of all the UK's leading organisations for performance and sustainability, including the Theatres Trust, ABTT, UK Theatre, Federation of Scottish Theatres, and Julie's Bicycle.