Sheffield Theatres: Designing the Crucible Theatre
Member's price £10.00
Non-member's price £10.00
23 May 2022 | 5:30 pm - 7:00pm
Sheffield, Crucible Theatre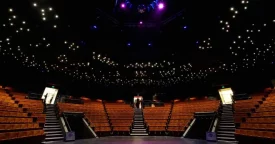 Designing the Crucible Theatre – Join us for this special insight event.
To help celebrate 50 years of the Crucible we are going back to where it all began with a discussion with the theatres' architect, Nick Thompson will discuss the design and building of the Crucible with Tedd George, son of the theatres' founding artistic director, Colin George.  They will explore the original plans for the theatre, why it was decided to adopt a revolutionary thrust stage, and how this creative vision was transformed into an architectural design and an engineering reality.
Their discussion will lead the audience through the design process; from the original sketches of the thrust stage right through to the brilliant engineering solutions devised, highlighting the amazing work of individuals and teams involved in creating this unique building.
Nick and Tedd will also share little-known facts about the Crucible; including why the backstage area is located under the stage, how Agammemnon's tomb at Mycenae influenced the enormous doors to the auditorium and what secrets lie hidden under the buildings' structure.
There will be plenty of opportunities for you to ask your questions and share your knowledge, views and experiences of the Crucible.
The event begins with refreshments on arrival before the discussion in the Crucible auditorium. Tickets can be booked online using the link below.  By purchasing a ticket to this event you will be helping Sheffield Theatres to keep being bold and brilliant in everything we do for the next 50 years and beyond!