Stephen Joseph Association Annual General Meeting
M
11 December 2020 | 2:00 pm - 4:00pm
Zoom, Online Event
This meeting is open to those who have joined the SJA committee as an ABTT Member and SJA Members only.
The Stephen Joseph Association (adopted as a committee of the ABTT since 2019) will be holding its next AGM on Friday 11th December at 2pm.
The event will be taking place online due to the current pandemic.
Details below: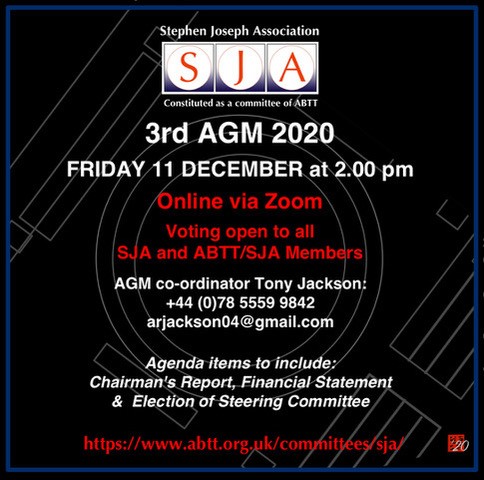 Further papers, including minutes of last meeting, agenda, chairman's report and annual accounts, and formal motions for agreement, also instructions on how to join the meeting, will be emailed to those eligible to attend.
What is the SJA?
The SJA or Stephen Joseph Association was formed to support and celebrate the life work of Stephen Joseph as director and teacher, and as the pioneer of theatre-in-the-round in the UK. His legacy and name live on though the theatres he created, and also through the newly created Stephen Joseph Association.
What we do:
The aim of the SJA is to promote Stephen's legacy and, in particular, to celebrate the centenary of his birth in 2021 with projects and collaborations which investigate and extend the awareness of his influence on the design and development of new theatre forms, writing and performance.
To find out more information about the aims of the SJA please click here.