STR Lecture: Putting Britain on Point- 150 Years of Teaching Dance
Member's price FREE
11 March 2021 | 7:30 pm - 9:00pm
Zoom, Online Event
This lecture will be given via Zoom Webinar. Please book on the website and we will email you the live link 24 hours before the event.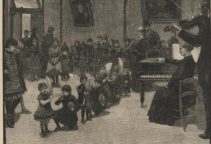 In conjunction with the current display 'On Point: Royal Academy of Dance at 100' at the V&A, curator Jane Pritchard will look at how young people have been trained in ballet and dance over the past century and a half. Beginning with the establishment of the National Training School for Dancing in 1876, the presentation will consider the development of dance schools for those who wish to become professional dancers and schools for those who wish to learn for pleasure. Discussion will take into account the situation before the development of such institutions now known as the Imperial Society of Teachers of Dance (founded 1904), the Royal Academy of Dance (1920) and BBO Dance (1930) and how such British organisations have now acquired international status.
Read more about the display here: https://www.vam.ac.uk/exhibitions/on-point-royal-academy-of-dance-at-100
Jane Pritchard is Curator for Dance at the Victoria and Albert Museum, where she curated the current display 'On Point: Royal Academy of Dance at 100' in the Theatre and Performance Galleries.
If you have any questions, please contact our Lecture Series Coordinator Valerie Kaneko-Lucas via events@str.org.uk.