STSG Conference 2020
15 February 2020 | 9:00 am - 5:00pm
York, Ampleforth Abbey and College
The STSG annual conference takes place every February at a member school. The Saturday event consists of a busy day of workshops, seminars and networking, followed by a semi-formal dinner. Several industry suppliers attend with a small exhibition of products and services; networking with other delegates and sponsors is always an important part of the day.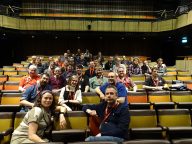 The day will feature a busy programme of workshops and seminars with lunch included, running from 9am-5pm. This will be followed by a special dinner at the school, plus overnight accommodation in the school's recently-built conference boarding house.
Ampleforth is located north of York in the beautiful North Yorkshire Moors, just 25-min drive from Thirsk on the A1 motorway.
Workshops are provided by our industry sponsors and other invited speakers. We try to cater for a mix of subjects and knowledge levels, incorporating advice and feedback from previous conferences. There will be plenty of opportunities to network with other members and the company reps/exhibitors. We will also try to schedule more time this year for group discussions.
We aim to provide the conference at maximum value-for-money to allow as many members to attend as possible. This is only possible with the generous ongoing support of our industry sponsors, each of whom subsidise places for up to 7 delegates.
It was a very useful, friendly, informative conference and just the right mix of social, business and networking.