Sustainable Productions Seminar: Theatre Green Book
Member's price FREE
30 April 2021 | 9:30 am - 10:30am
Zoom, Online Event
The content will be the same in each seminar, so you only need to attend once.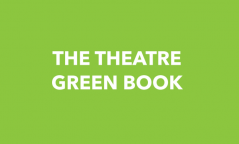 What is the seminar about?
Paddy Dillon, Theatre Green Book Co-ordinator, is holding free seminars for those who are interested in trialling the Sustainable Productions volume of the Theatre Green Book, or thinking about it, or simply want to hear more.
Each seminar will last an hour, and the aim will be to take people through the Theatre Green Book beta version, and answer questions. It will also be a chance for companies thinking of working with the Theatre Green Book to connect with each other and those who are already planning to trial a show can bring their teams along – including freelancers – to learn more.
The dates are as follows:
Friday 30 April 9.30 – 10.30
Wednesday 12 May 9.30 – 10.30
Friday 21 May 9.30 – 10.30
Wednesday 2 June 9.30 – 10.30
What is the Green book?
Groups and individuals across theatre have been talking for some time about how to make theatre more sustainable and working on blueprints to promote change. The Theatre Green Book aims to bring that thinking together into one place, and develop it as straightforward, practical advice on the first steps everyone should be taking to make productions, theatre buildings and front-of-house operations sustainable.
This 'Green Book' of guidance for sustainable theatre will focus on first steps: what everyone can and should be doing to change their practice now, but it will also map out paths ahead, indicating what further steps might be needed to reach a sustainable future quickly.
The first part of the project is looking at productions – a 'Beta' version is now available for theatres to trial on re-opening shows and provide feedback on before the final version is released later in the year.
More work will be done on the other strands looking at theatre buildings and front-of-house operations will follow.
Theatres Trust is a project partner along with ABTT and Buro Happold. Paddy Dillon is the Green Book Co-ordinator.
You can find out more about the Green Book Initiative here: https://www.abtt.org.uk/theatre-green-book-initiative/