Technical Standards for Places of Entertainment (Plasa Online – ABTT Seminar)
13 May 2021 | 4:00 pm - 5:00pm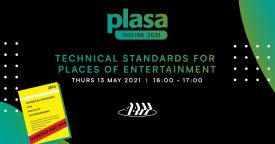 The Technical Standards for Places of Entertainment is constantly updated. There have been six reprints of the current edition with the most recent being issued on 1 July 2020. Key revisions affected:
Section B9 Conservation of Energy
Section F1 Electrical Installations
Section F2 Lighting including Emergency Lighting
Section M12 Electrical installation and permanent electrical equipment.
Robin Townley, ABTT Chief Executive, and members of the Standing Committee for Technical Standards will outline the amendments that have been made. Participants at this session will have the opportunity to raise questions and discuss interpretation of the guidance and compliance.