The Curtain is Rising: Working Safe & Healthy during COVID-19
Member's price FREE
Non-member's price FREE
5 November 2020 | 2:30 pm - 4:00pm
Zoom, Online Event
Please book a place on this event as there are limited tickets available.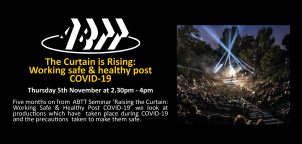 Following ABTT Seminar 'Raising the Curtain: Working Safe & Healthy Post COVID-19' which took place in June 2020, this seminar will look at productions which have taken place since COVID-19 and the precautions taken to make it a safe and secure environment for the staff and attendees.
We will be joined by Michael Rose, Producer of Sleepless a Musical Romance, which premiered at the Troubadour Wembley Park Theatre in September 2020 and Andy Beardmore, Technical Director for Jesus Christ Super Star at Regents Park Open Air Theatre, which also opened in September 2020 plus other industry experts.
Chaired by Mig Burgess, we will be discussing what Health and Safety planning for COVID-19 was in place during these productions and investigating the way forward for our Industry after the current pandemic, possible strategies for reopening and the precautions that must be in place for this to happen.