Webinar: Scene Change – placing the backstage arts centre stage.
28 August 2021 | 11:00 am - 12:30pm
Zoom, Online Event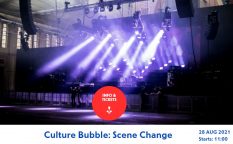 Part of our Creative Learning Culture Bubble series, Scene Change brings together a panel of female backstage professionals to discuss the changing face of the production industry. You'll hear from leading luminaries in the fields of lighting, sound and venue crew, who'll talk about their experiences breaking into the sector, the challenges they've faced and what venues and individuals can do to foster a more inclusive workforce.
This webinar promises to provide the information you need before embarking on a career in the backstage arts.
Scene Change – placing the backstage arts centre stage.
This webinar exists to support young people aged 16-24 who might be interested in a career in the creative sector. The webinar will end with an open Q&A giving the chance to join in the discussion and ask any burning questions you have.
The webinar will take place on Zoom on Saturday, 28 August from 11am-12.30pm.
Please note this webinar will be recorded and closed captions will be available.
Email creativenetwork@alexandrapalace.com in advance if required or if you have any questions.