Obituary: Ken Miller
1 December 2021
Ken Miller, one of the true heroes of stage lighting has passed away, aged 84. The first of a breed, Ken set new standards, establishing the role of 'Production Electrician' in theatre, working for many years with Michael Northen (The first accredited British Theatrical Lighting designer). Ken's career spanned several decades and he toured frequently into every major (and minor ) house in the UK. 
He started working with his father in a factory at the age of fifteen but after two weeks he walked out and passing  the Dudley Hippodrome which was loading in, he asked for work – and that's how it all started.   His career was varied:  from touring opera around the world,  to end of the pier shows, where he might be found operating lights dressed as a policeman, ready to rush down to the stage to make the bust and get the show's last laugh.
He toured with Marlene Dietrich in the early 1960s and would delight everyone with his impersonations and in particular a story of her performing the song, 'Where Have All The Flowers Gone', followed by an unwelcome petal drop of rotten rose petals that had not been replaced for a week!  Ken worked with many great Lighting Designers, Directors and stars, although to quote Ken,  'the only stars are the ones in heaven'.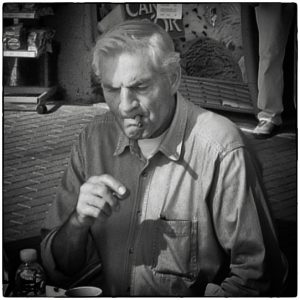 He was also known throughout theatre for his many quips and 'Millerisms' such as:
'The wheels of the Scope must never stop turning'

'A little creep downstage…'  (often said when certain theatre management walked through the auditorium)

'I ask myself what John Wayne would do in this situation?'

'If it was easy Chief, they wouldn't need us.'

'These are the hands that drove the Deadwood stage.' (He maintained that his hands were used for a close up of Doris Days hands in the film!)

'We've got our top man on it.'

'Don't worry, when they come you won't hear them.'
More recently in the 1990s and early 2000s Ken toured with Triumph Proscenium Productions where his skill, charm – Patricia Routledge never had a bad word to say when Ken was on tour- and wit were introduced to a whole host of new, budding theatre staff.  On the first occasion he came into Malvern the crew were stood waiting and on their best behaviour only for him to come in looking them up and down, with his usual cigar in hand and said, 'I've been sent as a warning to the rest of you, get out while you can!' – but in reality Ken was a shining example who encouraged and inspired so many people he came into contact with.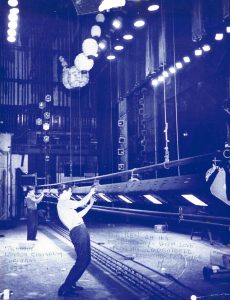 In our current world of high tech, where lighting desks link to cameras and computer software, it is almost inconceivable that a 5cm sq. flip notepad, stored in Ken's shirt pocket,  could contain the entire focus plot for a complex number 1 touring lighting rig.  A pad, an adjustable spanner and a cigar – nothing else required.
Ken leaves behind his daughter Rosie and son Edward of whom he was incredibly proud along with his adored newly born granddaughter Poppy to whom he sang 'Thank Heavens for Little Girls' only a month or so ago.
One of the great characters of British Theatre.  Ken – The Silver Chief – thanks for everything, rest well.
As a footnote, Ken didn't wish to have a funeral and if you'd like to share some of your memories of Ken with his family you can email: memoriesofkenmiller@gmail.com