Company overview
MDG generators are used in all areas of the entertainment industry from Broadway to the West End, Hollywood to Bollywood. Our heavy-duty, reliable generators are the choice for theatre and opera, film, television, concert, leading amusement parks and events. A wide range of products, from discreet to overwhelming, indoors or outdoors.
Please join us in our Demo area in the Palace Suite to learn more about the products we will be showcasing at ABTT.
Contact
Matt Wiseman
Address
3 Spinney View,
Stone Circle Road,
Round Spinney industrial Estate,
Northampton,
NN3 8RF
News
https://www.mdgfog.com/en/press-releases
Products
ATMe Haze generator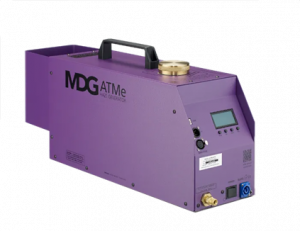 The finest haze on the market… just got better.
The ATMe single high output haze generator is the evolution of the world-famous ATMOSPHEREAPS, the industry's standard for more than two decades.
Features
Longest hanging time,
Variable haze output,
APS™ (Automatic Purging System),
Numerous control options,
Extremely quiet operation,
Lowest fluid consumption on the market.
ATMe from MDG Fog Generators on Vimeo.
ICE FOG Q – HP, Low Fluid Generator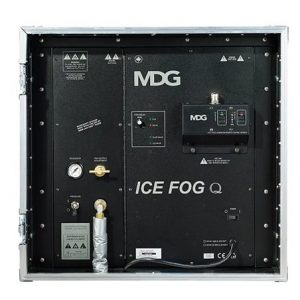 The densest low fog you've ever experienced!
Our high output ICE FOG Q creates a thick dense low-lying fog with zero residue without the use of dry ice. Now using LCo2 HP cylinders
Low fluid consumption,
Adjustable Density. 100% duty cycle,
Self-contained unit on wheels for easy transport,
Detachable remote control and 8m (26ft) cable included,
Quietest low fog generator on the market,
MDG – Round Floor Pocket from MDG Fog Generators on Vimeo.
MDG – D-VERTER from MDG Fog Generators on Vimeo.
ICE Fog Series from MDG Fog Generators on Vimeo.
Vertical Flightcase (Internally wired)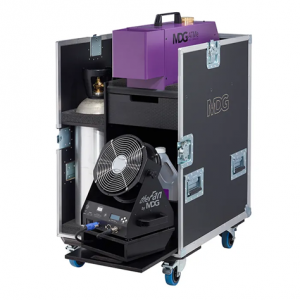 The Vertical Flight Case designed to carry your MDG haze or fog generator and everything needed for ultimate performance and mobility.
Features:
Bespoke flight case,
Self-contained unit,
Sturdy construction, wheeled chassis,
Direct plug-in connections,
Ready to go,
Complete touring package
theONE™
theONE – Touring haze AND Fog Generator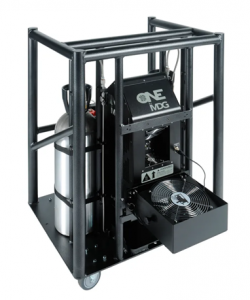 Award-winning theONE's revolutionary technology means this fully digital atmospheric generator creates fog or haze effects from a single source. Its construction and features make theONE™, perfect for rental and international touring.
Dual mode: haze and fog
APS™ (Automatic Purging System)
Networking capabilities
ARS™ (Automatic Refill System)
Integral touring fan
MDG theONE – atmospheric generator from MDG Fog Generators on Vimeo.
Me2 WPE (Weather Proof Enclosure) Fog Generator
Me2 WPE (Weather Proof Enclosure) Fog Generator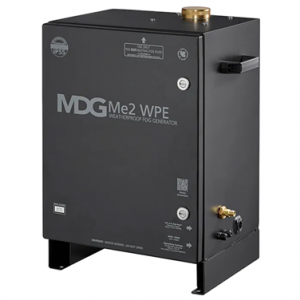 Me2 WPE  – THE POWERFUL OUTDOOR TYPE
Me2 WPE, housed in a weatherproof enclosure, always ready for the outdoors.
FEATURES
Weatherproof enclosure  – IP55
Dual fog output
Variable fog output
Fluid consumption
100% Duty Cycle
Numerous control options
APS™ (Automatic Purging System)
MDG – ATMe WPE from MDG Fog Generators on Vimeo.
theFAN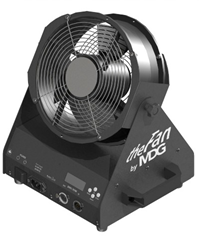 The best compliment to any atmospheric effect.
Designed to work in tandem with our professional generators or as a stand alone unit, theFAN™ is a versatile, 100W, ultra-compact, variable speed, digital fan.
Free standing or variable mounting options
Universal switching power supply 100-250 VAC, 50/60 HZ, Single phase
Noise level at 1 M (3.3 FT): 64DB at maximum speed
4-button LCD user interface, USITT DMX512, XLR-5 connectors, RDM compliant
One-channel standard mode or two-channel quiet mode
Variable speed and air flow up to  24 M3 (850 FT3) per minute
theFAN from MDG Fog Generators on Vimeo.