COP004: Portable Appliance Testing and Advice on Electrical Safety in Theatres (2007 Edition)
Member's price £10.00
Non-member's price £15.00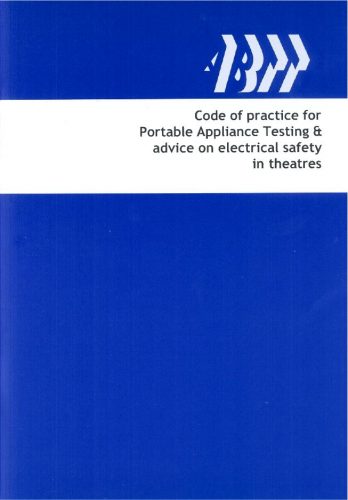 COP004: Portable Appliance Testing and Advice on Electrical Safety in Theatres (2007 Edition)
Member price £10.00
Non-member's price £15.00
This Code of Practice provides guidance and recommendations. It is not a specification or statement of the law. It is intended however, to guide theatre managements and technicians on how to comply with the law and achieve good practice. The code suggests how to evaluate the hazard and risk of each item, and describes suitable means to inspect, test, label and record the state that item's electrical safety.
This code of practice replaces the original edition of 1994.
The need for formal Portable Applicance Testing (PAT) arises out of Electricity at Work Regulations 1989. Further obligations to provide a safe method of Portable Appliance Testing are required by the Provision and Use of Work Equipment Regulations 1998, and the Management of Health and Safety Regulations 1999 and also by the Workplace (Health, Safety and Welfare) Regulations 1992.
If you purchased this code of practice before September 2010 revision pages (2010) are now available to download for free here.
If you purchased this code of practice after this date the revision should be found at the back of the book.