Sightline – Autumn 2019
Member's price £5.00
Non-member's price £10.00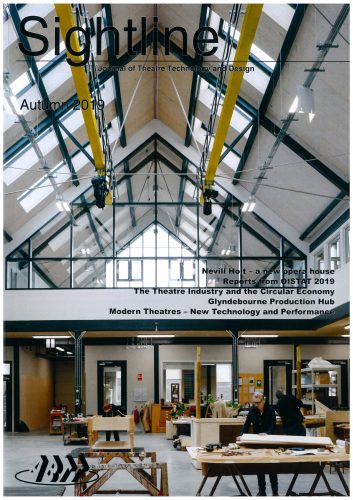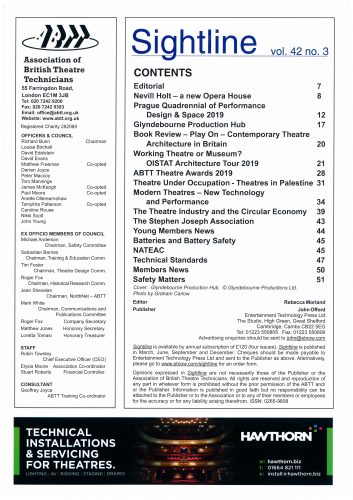 Sightline – Autumn 2019
Member price £5.00
Non-member's price £10.00
Sightline is a journal which delivers articles that record the buildings, productions, technology and people that are developing the boundaries of design and technology. Articles are in-depth and thorough, but also thoroughly approachable for the interested reader.
ABTT Members' get Sightline delivered as part of their ABTT Membership.
This edition of the magazine contains the following articles:
Editorial,
Nevill Holt – a new Opera House,
Prague Quadrennial of Performance Design & Space 2019,
Glyndebourne Production Hub,
Book Review – Play On – Contemporary Theatre Architecture in Britain,
Working in a Theatre or Museum?,
OISTAT Architecture Tour 2019,
ABTT Theatre Awards 2019,
Theatre Under Occupation – Theatres inPalestine,
Modern Theatres – New Technology and Performance,
The Theatre Industry and the Circular Economy,
The Stephen Joseph Association,
Young Members' News,
Batteries and Battery Safety,
NATEAC,
Technical Standards Updates,
Members' News,
Safety Matters.