Technical Standards for Places of Entertainment e-book (College Licence for 20 students)
Member's price £216.00
Non-member's price £216.00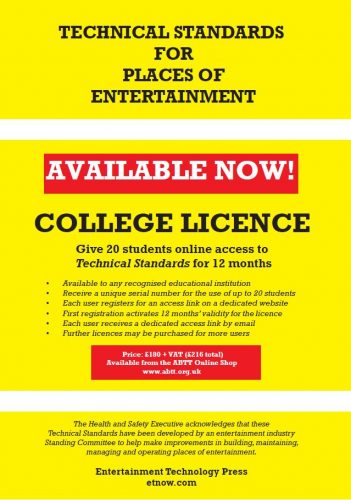 Technical Standards for Places of Entertainment e-book (College Licence for 20 students)
Member price £216.00
Non-member's price £216.00
This publication provides a set of standards for the buildings, equipment and management of premises which are primarily used for entertainment. Such buildings can present unique hazards to performers, staff and the general public due to the number of people present in unfamiliar surroundings which may be noisy or poorly lit. The standards are intended to apply to indoor venues although much of the guidance will also apply to outdoor events. The intention here is to help licencees, technical managers and enforcers to understand the requirements and needs of places of entertainment. The aim is to provide simple guidance in an easy format.
When you purchase one of these licences, you will be provided with a group serial number which will provide you with access to Technical Standards for Places of Entertainment for up to 20 students for 12 months. This online log in will work until a major reprint takes place.
Online Viewing
To activate the group serial number and view the e-book, the student or teacher/supervisor would go to: http://www.technical-standards-for-places-of-entertainment.co.uk/students and then type in their name, email and serial number.
The first person to use the group serial number automatically activates the expiry date – which would be 12 months from first access.
Further Licenses for blocks of up to 20 students may be purchased as required.