Drop off your old theatre barn doors at the ABTT Theatre Show!
1 June 2023
The Old Vic will be at the ABTT Theatre Show this year, requesting your old barn doors. The design intent for the extension to The Old Vic Theatre is to re-purpose theatre barndoors, sourced from performing arts venues around the UK. The Old Vic needs your help to collect 240 of them! The types required can be found below.
The Old Vic is embarking on a major programme of investment and renewal to sustain and modernise their Grade II* listed 205-year-old theatre as a creative hub and community resource for the next generation by building The Annex, a six-storey extension to The Old Vic. Sustainability has formed an integral part of The Annex design proposals from the start of the project, and architects Haworth Tompkins have incorporated salvaged materials into the design in order to make it as sustainable as possible.
The design intent is to re-purpose x250 theatre barndoors, sourced from performing arts venues across the UK to create a colourful and playful brise soleil that is held off the main façade structure in front of a fixed curtain wall glazing.  They will be upcycled with powder coating in a variety of colours and fixed in a variety of opening positions.
The Old Vic are looking for donations of two sizes of barndoors of approximately 200mm or 300mm (internal measurement, not including the wings/blades).
If you or your organisation are able to donate any barndoors to The Old Vic, then they will be joining on the day at Stand A52, so please feel free to bring these along with you where they can be dropped off, or speak to a member of the team to learn more.
Alternatively, please contact Helen Hodge, Associate Director of Special Projects at Helen.Hodge@oldvictheatre.com | 020 7928 2651 or bring any barndoors directly to The Old Vic Stage Door, 103 The Cut, London, SE1 8NB by Friday 15 December 2023.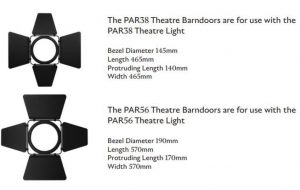 Specification
Material – Aluminium
Geometry – 4 blades and connecting ring are required
Condition: Blades all in tact and free of damages such as cracks, rust and distortion.
Blade thickness: Approx. 1-2mm
Size: Matching, or reasonably close to the above barndoor products.
Amount: Approx. 100 of the smaller PAR38s and 140 of the larger PAR56